Nike SB Dunk Low Reverse Papa Bear
NIKE SB DUNK LOW PAPA BEAR RELEASING 5/31
This SB has some history behind it, so let's start there with this amazing piece of history.
In the mid-2000's, before the Dunk became kind of a nothing shoe for Nike, Nike SB released the "Three Bears Pack", honoring Papa Bear, Mama Bear, and Baby, with the Dunk High, Mid, and Dunk Low respectively. With this release, Papa Bear is making an appearance again as a Dunk Low, in a reverse style with more run-of-the-mill materials. Below are pictures of the original Three Bears pack. The Papa Bear High is in the top left, complimented by suede and fur-like materials like what's found on the Grateful Dead dunks released around 6 months ago. Nike went all out on the materials for the original Papa Bear, and the re-introduction of the shoe in a low is pretty cool, but the materials themselves are nowhere near on the same level of quality.
Original Three Bears Pack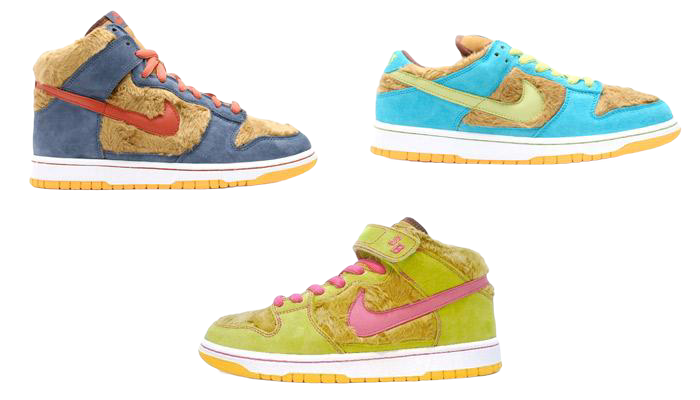 The new Papa Bear Dunk Low is most definitely recognizable as an homage to the original, The color blocking has been flipped, with dark tan suedes and navy finishes underneath in tumbled leather. A red swoosh with red laces, white midsole and blue outsole ties it all together. I would have liked to see the navy tumbled leather instead be fur like the original. Without it, this colorway just looks a bit bland to me, and I think it's a shame because this model had so much potential. That being said, I think OG Heads will still definitely be wanting to secure a pair, but personally, they're not for me. I think they'd be hard to coordinate with a fit, and overall I just find the styling boring.
NIKE SB DUNK LOW "PAPA BEAR"
As far as resell goes, I still think these will do decently well among the OG heads. Right now, you can cop a pair off StockX or GOAT in the $220-$250 range. If Nike had stayed true to the original, you'd be seeing prices similar to the Grateful Dead dunks. Nevertheless, I still think these are a good cop for resale as retail should be $100. Look for these to release on SNKRS and Shopify on the 31st.
Nike SB Dunk Low Papa Bear
Release Date: May 31st, 2021
SKU: BQ6817-700