THE CHROME HEARTS BRAND FAQ
Chrome Hearts is a high end brand that sits right between luxury and streetwear. Chrome Hearts specializes in silver jewelry, leather goods and readymade clothing. The brand stems from Hollywood, CA and was founded by Richard Stark in 1988. Chrome Hearts operates by appointment only in most locations, with zero e-commerce representation. The brand's exclusive shopping experience as well as limited production runs have caught attention of celebrities such as Drake, Lil Uzi Vert, Lil Yatchy, Jay Z, Kylie Jenner, Offset, Quavo, Bella Hadid, Kim Kardashian, Virgil Abloh, Motley Crüe, Guns N' Roses, and many others.
Who Founded Chrome Hearts?
Chrome Hearts was founded by Richard Stark, Leonard Kamhout, and John Baumann. The brand emerged in 1988 out of Hollywood, California. The Stark family is the controlling force of the brand image, and Frankie Stark (@frankiebstark), Laurie Stark (@laurielynnstark), Kristian Stark (@kristianjstark), and Jesse Stark (@jessejostark) promote the brand on social media. Adding to the brand image is designer Matt DiGiacomo (@mattyboy90) who has created the immensely popular 'Matty Boy' line of Chrome Hearts clothing.
What is the Chrome Hearts symbol?
The Chrome Hearts logo includes the brand name, circular ribbon, and a cross. This has become a symbol of status and luxury. As the designers come from diverse backgrounds, the symbol stands apart from messages of religion and ethnicity to tell the story of the brand alone.
What is Chrome Hearts Matty Boy?
Chrome Hearts Matty Boy is a line of clothing designed by Matt DiGiacomo (@mattyboy90). The Matty Boy collection consists of colorful designs that contrast the monochrome clothing that Chrome Hearts typically creates. The line features sayings such as: "Stay Fast", "Sinister", "Control", "Beware", "Brain", "Sex Records", "Link & Build" and the most famous, "Chomper" which depicts a mouth and lips.
Where are Chrome Hearts Stores?
Chrome Hearts has 10 in-store locations across the US. These stores are largely appointment-only. Stores are located in New York, California, Colorado, Florida, Nevada, and Hawaii.
New York
-755 Washington Ave, New York
-870 Madison Ave, New York
-2080 Northern Blvd, Manhasset
California
-3835 Cross Creek Road #1A, Malibu
-600 N Robertson Blvd, West Hollywood
Colorado
-208 S Mill St, Aspen
Florida
-4025 NE Second Ave, Miami
Nevada
-3500 Las Vegas Blvd. South, Suite S-40, Las Vegas
-3131 Las Vegas Blvd South, Suite 115-B, Las Vegas
Hawaii
-2184 Kalakaua Avenue, Honolulu
Where is Chrome Hearts made?
Chrome Hearts is made in Hollywood, California. The Chrome Hearts factory spans 2 blocks in the middle of West Hollywood and frequently hosts celebrity spokespeople such as Bella Hadid.
PURCHASING CHROME HEARTS FAQ
How much does Chrome Hearts cost?
Because celebrity influence as well as limited production and release quantities makes many Chrome Hearts products extremely hard to acquire, prices of products match limited quantities. Items quickly sell out from Chrome Hearts stores and are available at higher resale prices. Bullseye offers increased access to Chrome Hearts products at fair prices.
Why are Chrome Hearts jeans so expensive?
Driving up prices, Chrome Hearts jeans are iterations of denim that are meticulously revamped and redesigned with leather accents. Most notably the Chrome Hearts cross logo is added to a Levi or Chrome Hearts base design, sometimes complemented by other leather accents. The infamous cross logo Chrome Hearts denim has been seen on celebrities such as Kylie Jenner and Lil Uzi Vert.
Where can I buy real Chrome Hearts online?
Chrome Hearts can be purchased at retail in-store by appointment only in select locations across the world. The brand prides itself on exclusivity and often releases only limited runs of each style produced, causing the demand to significantly exceed the supply. However, Bullseye offers a wide selection of many sold out styles as well as new styles available for purchase online.

Where can I buy a Chrome Hearts Trucker Hat?
Bullseye features an extensive collection of Chrome Hearts Trucker Hats which can be browsed online. The hats give new life to the classic trucker hat design with a high quality build and silver accents. The brand has released multiple iterations of the trucker hat, including color schemes such as red, blue, and pink which stray away from their monochrome original. Although the Hollywood Trucker Hat is the staple design, the brand has also released location exclusive trucker hats such as NYC, St. Barth, Aspen, and Malibu. Chrome Hearts Trucker hats have been seen on many celebrities such as Drake, Kim Kardashian, and more.

CHROME HEARTS PRODUCT FAQ
How do Chrome Hearts clothes fit?
Chrome Hearts clothing fits true to size with the exception of the 'Matty Boy' line which fits a bit small. We suggest that you purchase your true size for Chrome Hearts clothing besides the 'Matty Boy' collection. When purchasing this line, you should size up.

How to legit check Chrome Hearts?
Chrome Hearts is a highly demanded and exclusive brand, causing an immense amount of fake or unauthorized items to be floating around the market. The best way to legit check Chrome Hearts is to examine the wash tag, stitching, and receipt (if provided) of the item. The lines on the barcode of the wash tag should be spread out rather than close together (see image below). The stitching should be even and consistent throughout. The receipt will be printed on white non-receipt paper with a faded scroll logo on the top, often stapled together with a credit card receipt.

This is a legitimate Chrome Hearts Clothing Tag: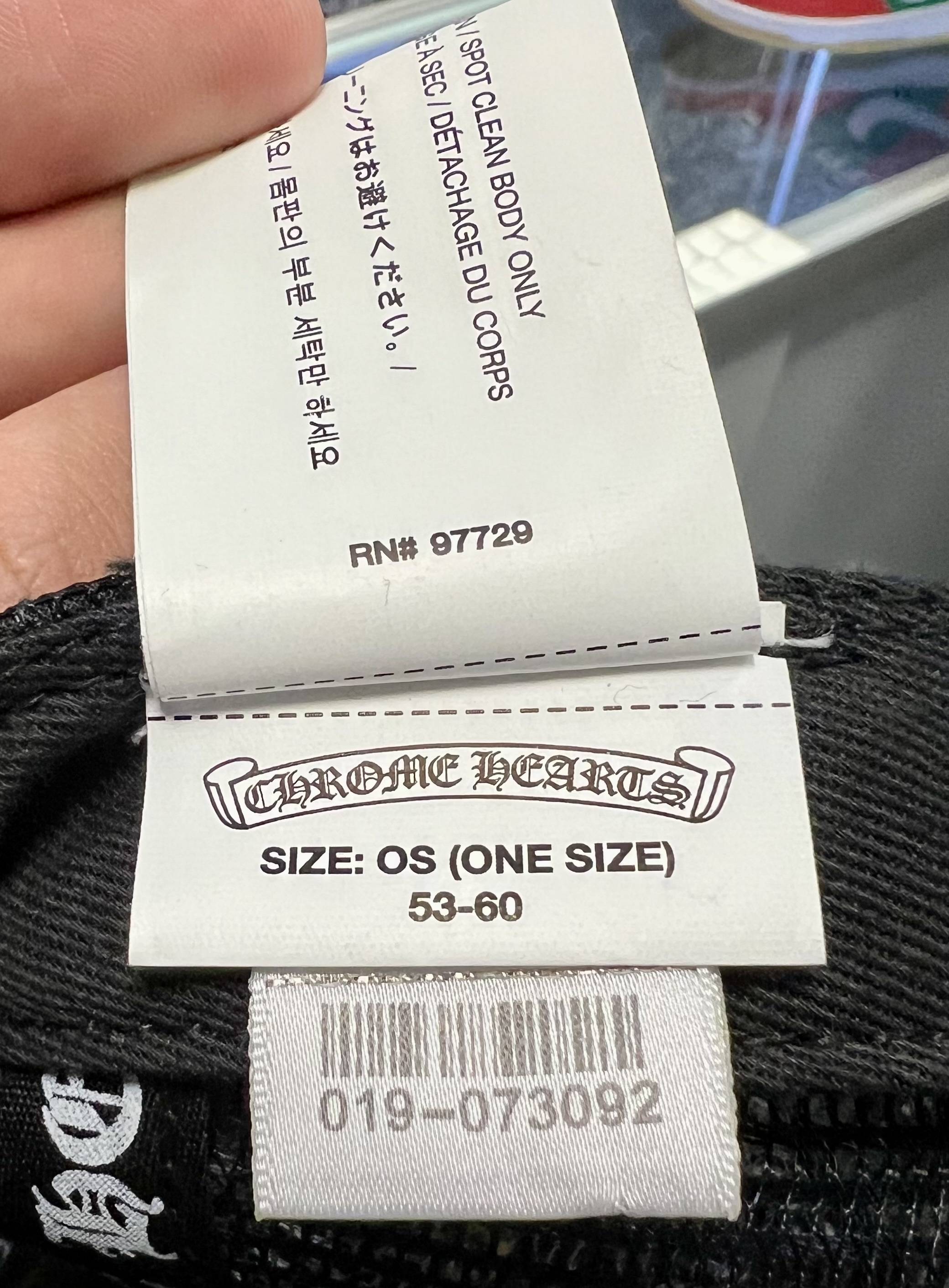 This second Image is a FAKE Chrome Hearts Tag example: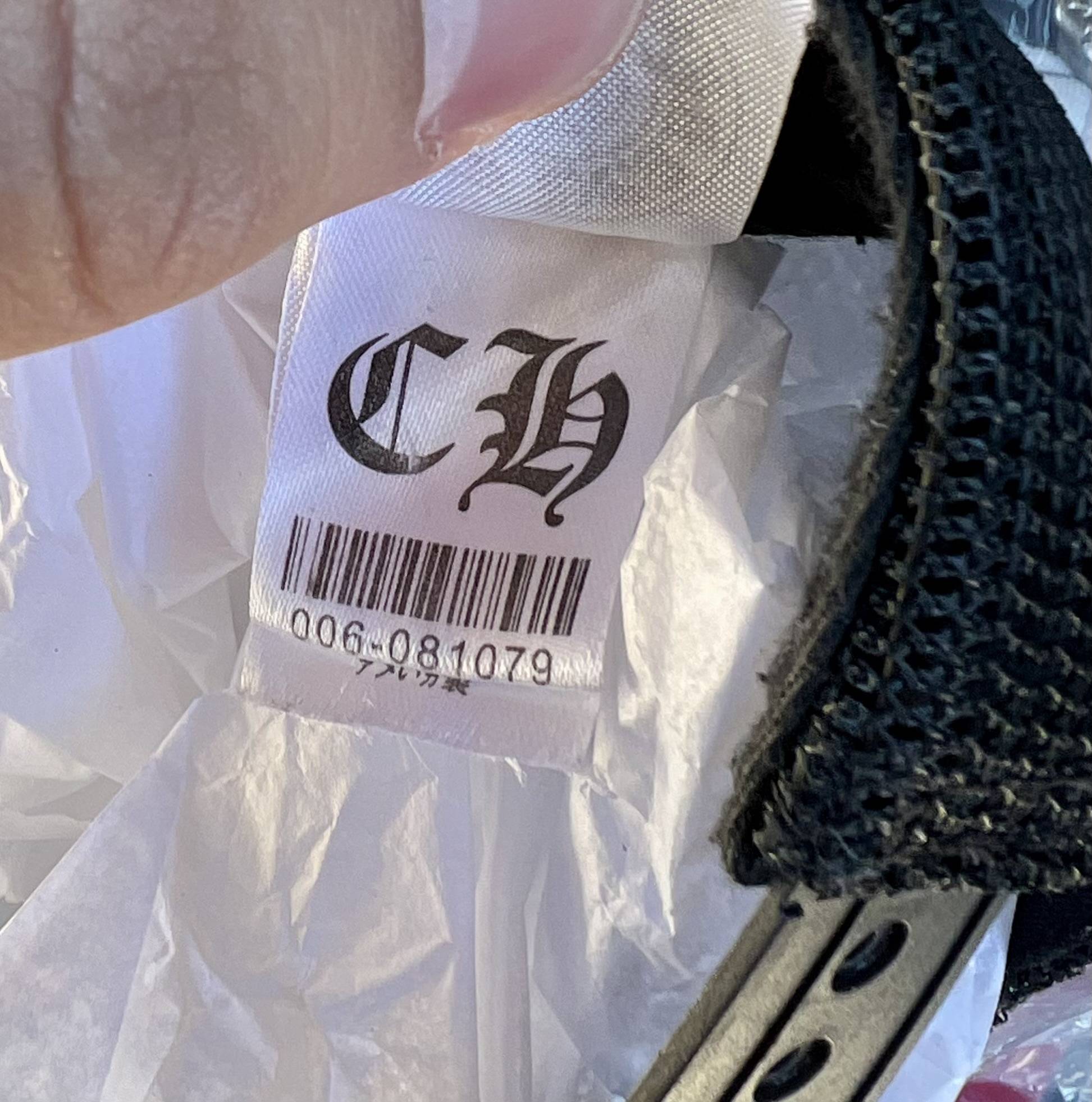 We offer a FREE Chrome Hearts legit check service at our in-store locations in Harrisburg, PA and Christiana, DE. Fake or unauthorized Chrome Hearts items are hard to avoid when browsing streetwear platforms such as Grailed and eBay. We highly recommend purchasing from reputable and validated sources. At Bullseye, we pride ourselves on providing authentic Chrome Hearts purchased only at verified retail stores.

How can I clean Chrome Hearts jewelry?
Chrome Hearts jewelry can be polished with a polishing cloth, typically (but not always) included in your purchase.